17 types of botanicals from Hiroshima
SAKURAO GIN is produced in a German-made, copper hybrid still. We utilize a hybrid distillation method that simultaneously incorporates the steeping method in which distillation is performed after immersing botanicals in a clear-tasting base spirits, as well as the vapor method in which botanicals are placed in a basket that is installed in the distillation path, and flavors are extracted from alcohol vapor passing through the botanicals. This hybrid method is the best way to extract the flavors of each and every botanical.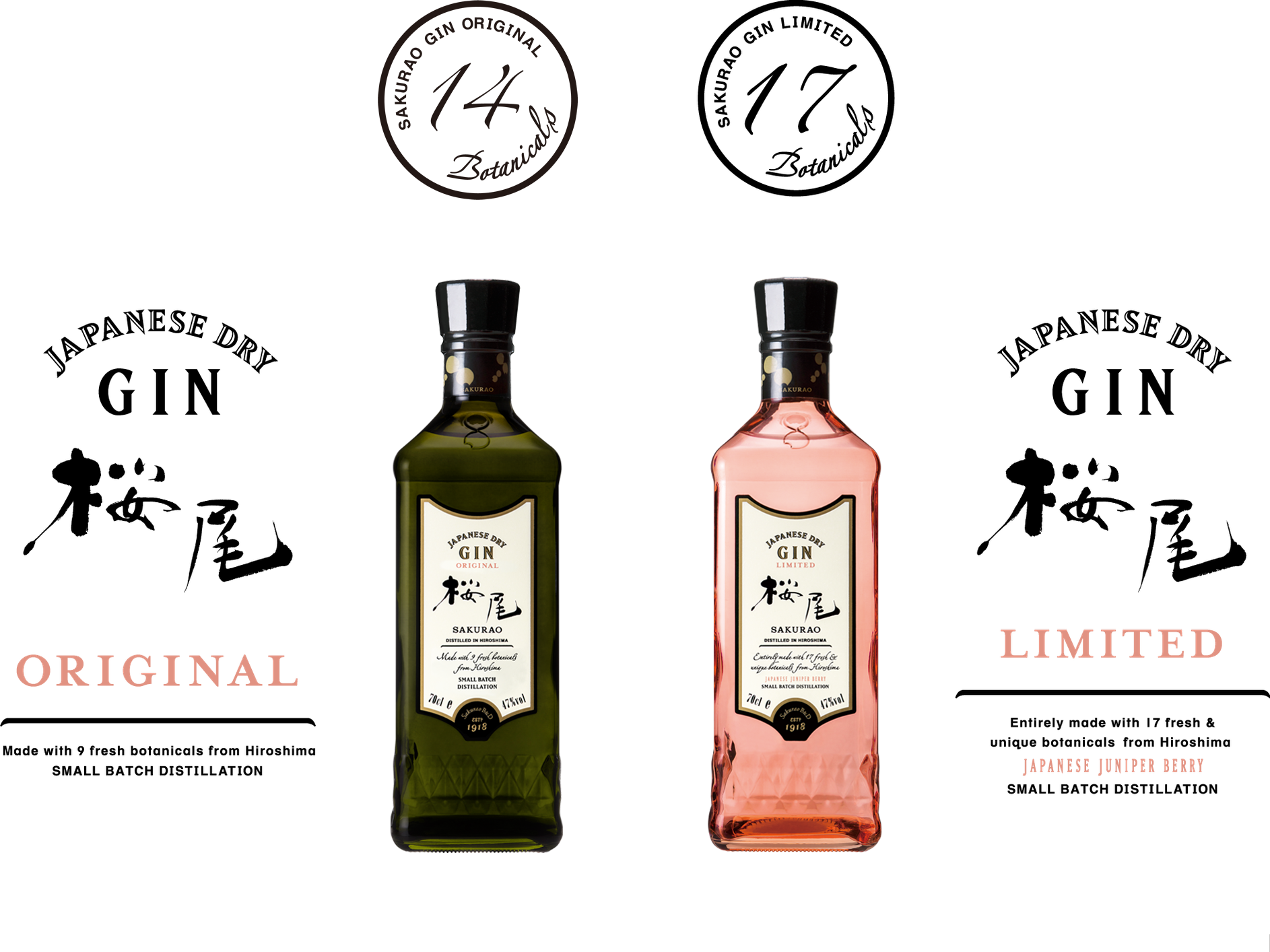 LEMON

Hiroshima
Using the particularly strong aroma of Hiroshima green lemon brings greater freshness to our gin.

NAVEL

Hiroshima
A sweet orange that is representative of Hiroshima. It has a good balance of sweet and sour flavors.

SWEET SUMMER ORANGE

Hiroshima
An orange that is more bitter-tasting than other citrus fruits. It brightens the sweetness of other citrus fruits.

YUZU (Citrus Junos)

Akitakata
We used green yuzu because it is native to Hiroshima. Its appeal is its strong aroma.

DAI DAI (Bitter Orange)

Hiroshima
A bitter orange with a distinctively bitter and sour flavor. It brings complex flavors to our gin.

HINOKI (Japanese Cypress)

Hiroshima
Our gin uses the soft fragrance of Japanese cypress from Hiroshima. Its characteristic Japanese scent brings mildness to the flavor of our gin.

GREEN TEA

Fuchu
We use special, unprocessed tea to produce the fresh and sharp aroma of green tea.

AKA SHISO (Red Perilla)

Yamagata
A Japanese herb whose distinct aroma pleasantly hits your nose as a finish to each sip of gin.

GINGER

Jinseki
We use the strongly sharp-tasting ginger to expand the breadth of aromas and flavors in our gin.

● All botanicals used in SAKURAO GIN LIMITED are from Hiroshima.
JAPANESE SAKURA (Cherry Blossom)

Hatsukaichi
The cherry blossom is the symbol of our products and distillery. We use local cherry blossom petals from Hatsukaichi.

JAPANESE JUNIPER BERRY

Hiroshima
Delicately hand-picked juniper berries from Hiroshima make it possible to enjoy a clear and refreshing aroma in our gin.

KUROMOJI (Japanese Spicebush)

Hiroshima
It has a deeply sweet and spicy scent that accents our gin.

KINOME (Japanese Pepper Leaf)

Hiroshima
An impactful Japanese ingredient that makes it possible to feel a spicy kick when tasting our gin.

OYSTER

Hatsukaichi
Oysters that have been raised in waters near our distillery. The shell of this oyster is used to add saltiness to our gin.

WASABI (Japanese Horseradish)

Hatsukaichi
Japanese horseradish, which is also called wasabi in Japanese, is a specialty of Hatsukaichi. It adds a piquant, Japanese spiciness to our gin.

JUNIPER BERRY LEAF

Hiroshima
Juniper berry leaf works to enhance the aroma of juniper berries. It has a characteristic fresh and slightly woody aroma.

AO SHISO (Green Perilla)

Higashi hiroshima
Works to intensify the aroma of juniper berries and juniper berry leaves.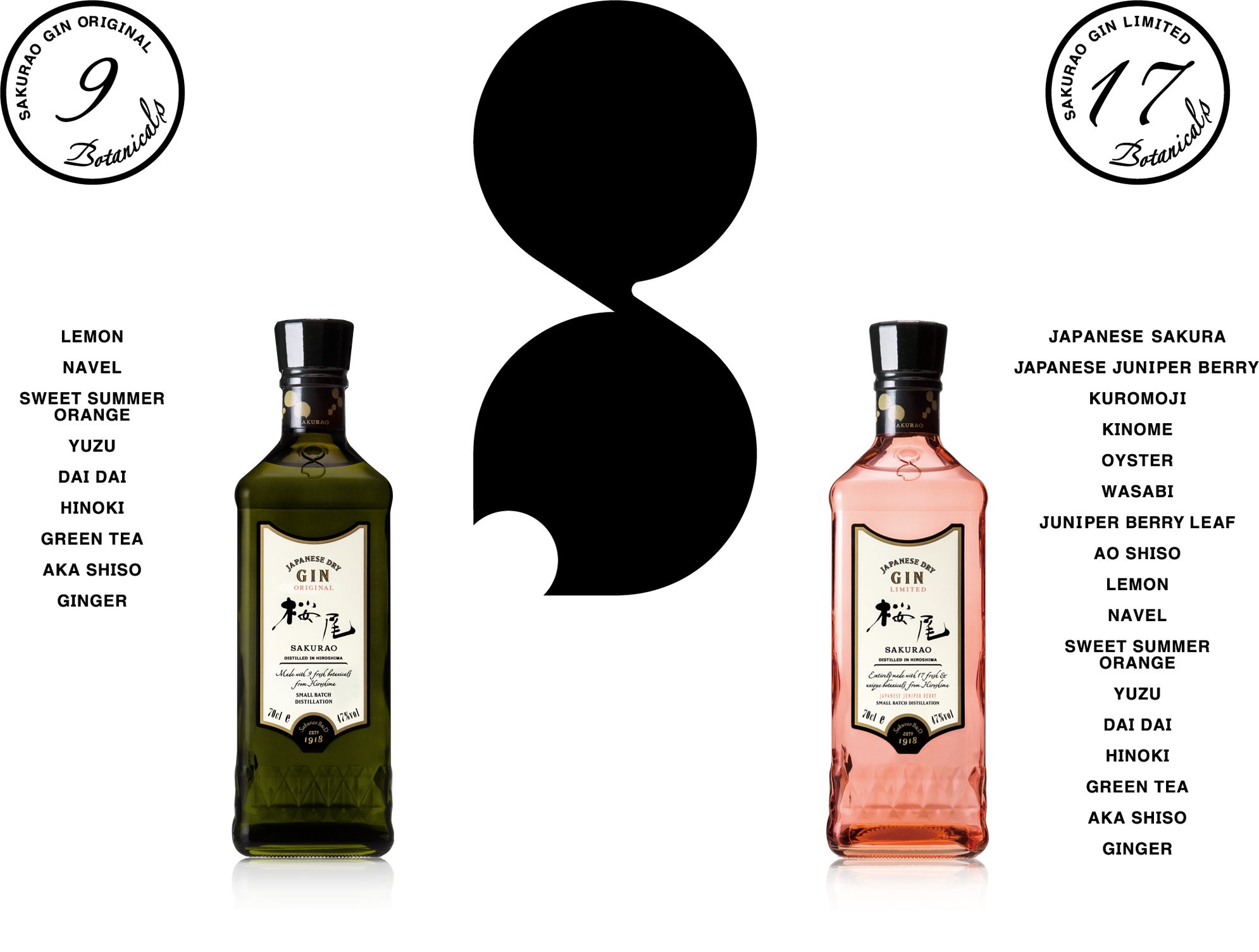 ● All botanicals used in SAKURAO GIN LIMITED are from Hiroshima.
● Besides these botanicals, 5 kinds of imported botanicals such as juniper berry and coriander seed are also used for SAKURAO GIN ORIGINAL.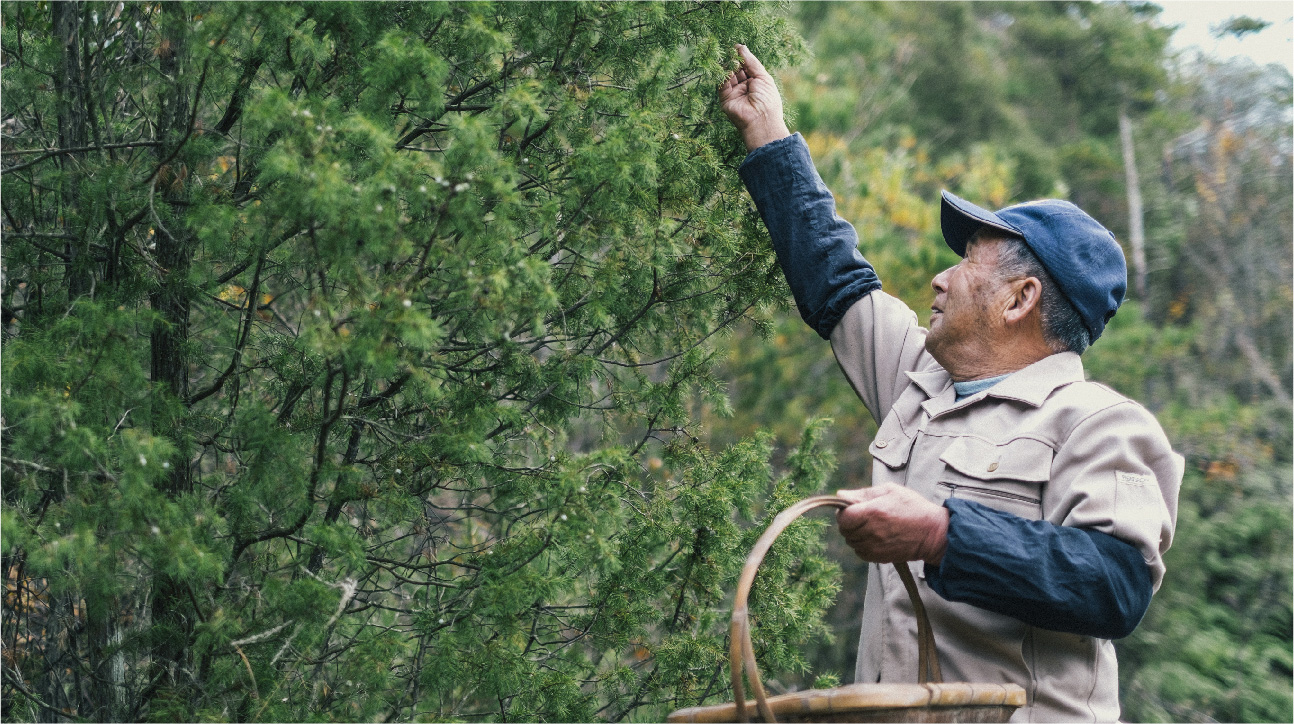 Cultivated by the Climate of HIROSHIMA
Specially selected botanicals that feature the riches of the land and sea from Hiroshima produce a wide variety of aromatic notes.